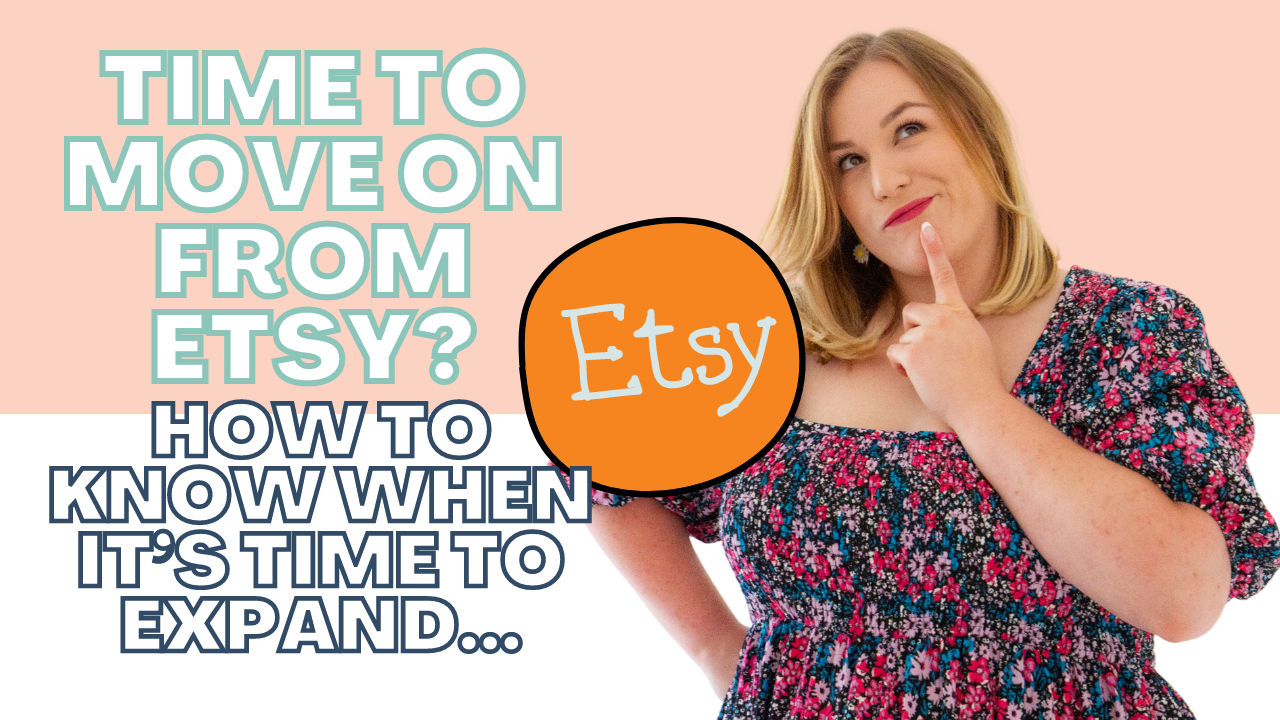 TIME TO MOVE ON FROM ETSY? How to know when it's time to expand
Sep 21, 2022
This blog post is all about when you know it's time to move on from Etsy.
We're going to look at this from a business perspective, not because there's anything wrong with Etsy or that you don't like Etsy etc.
This blog post is for those people who are making regular sales on Etsy, and have had a little thought or feeling that it may be time to move on from Etsy. We're not talking about coming off of Etsy all together, I'm talking about expanding your business reach online.
I'm talking about selling on your own website, or creating a Facebook group or moving onto a different selling platform.
BUT...
You need to be making consistent, regular sales on Etsy first.
Many people approach me online and say that they're ready to create their own website or set up a Facebook group and I always ask the same question. What are your sales figures? Many of them will say 'oh I haven't sold anything yet'.
Etsy is fantastic for getting your business off of the ground, testing things out, understanding who your target audience are and figuring out what your business needs to look like in order to grow and scale.
When you're ready to expand from Etsy, you should have a proven business model with a proven target audience that you are ready to expand.
You need to know your target audience really, really well before moving on from Etsy. You need to know where they are online, what kind of people they are, what thoughts they have, and what problems they have.
It's going to be really hard for you to come off of a marketplace that's bringing you constant targeted traffic and go to the vast internet and actually know how to get those same people to come to you.
What you're really saying here is 'no thank you Etsy, I don't need you to bring me targeted traffic of people in my target market, I'm going to go and do that myself'. That's fine to do, but you need to know HOW to do this yourself. You need to know where they are, where you need to reach them, what you need to say, and what problems they have that you need to solve.
And most importantly, you need to make sure that your product is actually a product that people want. If you haven't made sales on a marketplace or platform that brings you targeted people in to your shop, it might take you a long time to figure that out because the whole process will take much longer.
You are ready to build a brand, and not just a shop.
A lot of people will have a lot of different goals for their business. someone who's just starting out on Etsy wants to make some money, they want to prove the concept, they want to really get into the trenches of a business and learn as they go.
Someone who has been on Etsy for 1, 2 or 3 years and is ready to expand, they KNOW that they're onto something. It is a mindset shift.
If you're in it just to make money, then transitioning away from Etsy may not the way forward for you. You know that Etsy is bring you that money and why would you stop that?
However, if you're ready to build a legacy brand (a brand that is going to leave a lasting impression and do good and be really helpful in the world), then you have different priorities to those who are just wanting to make money on Etsy.
There's nothing wrong with solely wanting to make money, but this doesn't mean that you'll build a legacy business.
When I first started Handmade Bosses, there was a market for it, I was good at it, and it allowed me to make extra money. Now, it's not about that. Now, it's all about if I can change someone's life, help someone to be more in charge of their financial future, bring their gifts to the internet, then I'm there for it.
If I didn't want to build a legacy business, I wouldn't be giving out free resources all the time, it would all be about making money.
That's the shift. When you're ready to rise, or carve out that corner of the internet and really bring you work and your gifts to the world at large, that's when you're ready.
BOSS! Do you want to make more sales on Etsy? Then you need to increase your conversion rate! DON'T PANIC! I'm going to explain exactly how to do that in my FREE 90 minute masterclass - The 3 Step System To Skyrocket Your Etsy Conversion Rate 🙌🏻

Click the button below and save your seat!
Avoiding fees
One thing I do want to say, is that you are not ready (this is going to ruffle some feathers) to transition away from Etsy if you just want to avoid fees. I get this a lot. I get a lot of people who say that they do not like the fees, they don't trust Etsy, and while I do respect everyone's choice if they do or don't want to go on Etsy, if you're looking to avoid fees, then I hate to break it to you but you are in the wrong business.
There are fees in all aspects of business, whether you have your own website, whether you sell on Amazon or any other marketplace platforms out there, you will always have fees, because that is the nature of business. If someone has a marketplace, and says that they will bring you sales, but they didn't want any money in return, that's a big red flag.
This will happen in any business, but if you're just looking to get off of Etsy to avoid the fees, then I'm going the be the bearer of bad news here and say that you will never avoid it. Instead of spinning your wheels trying to avoid paying fees, there's better ways for you to do it.
There are pricing videos on my YouTube channel that is going to teach you how to price your items so that you don't even care about fees.
Investing time in expansion
You have some time to invest into expansion work. I say expansion work because it is work, but it's also a legacy expansion. You're a big dreamer, you know you have these big goals and now it's time for you to actually take action on them. But it will take time.
You do need to have time to invest so if you're already spending so much time spinning all of your plates in your business, and you don't get time to do all the things that you need to do now, how on earth are you going to get time to do this expansion?
So it could be that rather than taking your big expansion step now, it could be that you need to focus on streamlining your business and taking yourself out of it a little bit more, so that you have the energy and the time to really do this work.
You really, really love what you do.
There is no point in expanding on a business that you have fallen out of love with.
Sometimes we have that little annoying feeling that is telling us 'you don't love this anymore', and this is when you start to get restless, and bored. But you do have to love what you do before you do this expansion work.
Trust me, I have been there before where I have tried to grow a business I didn't love because I thought that the money would make me fall back in love with it again. Spoiler alert, it doesn't. It actually makes it worse because now you have more responsibility in a business that you don't love even more than you didn't before.
You've got to love it. You've got to live, eat and breathe it. You've got to believe that what you do does something fundamentally good in the world before you start to expand.
If you'd prefer me to visually teach you this blog post, then you can watch it HERE.
---
Don't forget to check out more blog posts from Handmade Bosses, and follow us on social media!

> Instagram is where you need to be for top tips, and behind the scenes sneak peeks into how I run my 6 figure business.

> Join THE most supportive Etsy Facebook group there ever was, and connect with motivated, like-minded people.

> YouTube is the place to be for hundreds of super informative videos, packed full of actionable advice.
> If you plan to launch (or relaunch) an Etsy shop, then Boss, you need a roadmap! I've created one that will ensure your Etsy store is set up to make those sales in no time. Download the '
30 Days To A Kick Butt Etsy Shop Launch Plan
' here.